Trophy Tundra Swan Hunts
GGS Outfitters has a 100% success rate on Swan hunts. We carry out Swan hunts December through January over super magnum decoys in winter wheat fields near Lake Mattamuskeet, home to thousands of wintering Tundra Swans. A lottery system is in place for swan permits through the N.C . Wildlife Resources Commission with approximately 5000-6500 permits available annually. You typically must apply between July through October 1st and the cost is $10.00. If selected, the permit allows for taking only one swan per year.
Please call to book your hunt. You must have a valid and current NC Swan Permit to book a Tundra Swan Hunt with GGS Outfitters.
How to Apply for a NC Tundra Swan Permit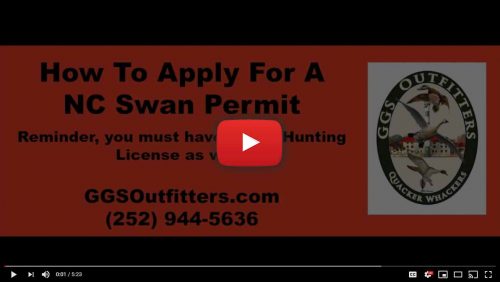 There are 3 ways to apply for a tundra swan permit:
Online at www.NCWildlife.org/permithunt. CLICK HERE to see GGS Outfitters' How To Guide to apply online. As most things are with a state agency, they make it a little over complicated, so we've tried to help you with our "How To."
Call 888-248-6834, Monday – Friday, 8:00am to 5:00pm EST.
At a wildlife service agent – this would be wherever NC Hunting Licenses are sold.
We've also included a link to Frequently Asked Questions about how to apply, how permits are awarded, etc.